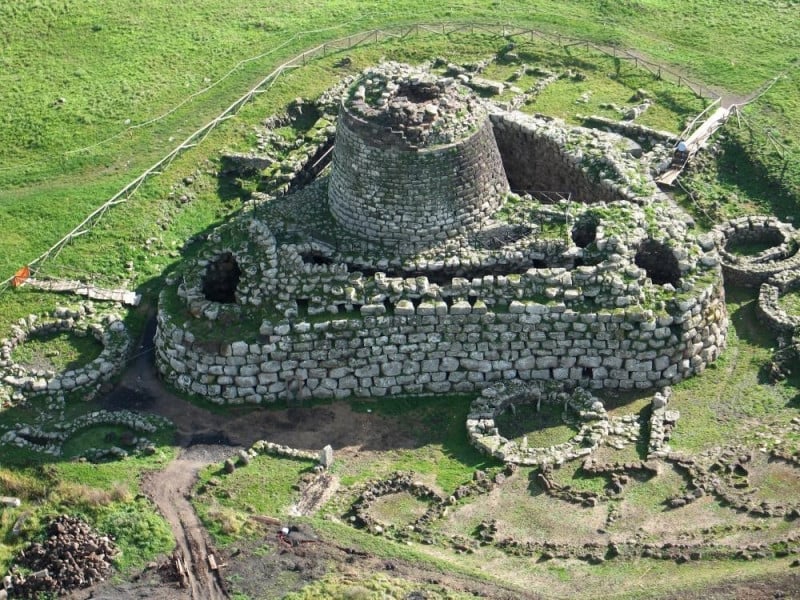 <!--[if gte mso 9]> Normal 0 14 <![endif]-->
The complex is formed by the nuraghe SantuAntine (literally %u201CSaint Constantine%u201D), dominating the fertile plain CapuAbbas, ten smaller nuraghi and a village.
The nuraghe Santu Antine, known as sa domode su re (the house of the king) is the most impressive nuraghe in northSardinia and the most harmonious in the entire island. The main tower and otherthree towers are hemmed in by a triangular trilobate bastion.
The round main tower, 17.55m high, is built ofbig basalt blocks rough- shaped at the base, more regular and smaller to thetop. It develops on three floors with three circular tholos chambers,with intact roof in the first two floors. Around the ground-floor room there isa corridor lightened by nine loop- holes. The structure of the bastion, on twosuperimposed levels, is very complex.
Thesurrounding village consists of Nuragic round huts, with rectangular structuresbuilt during the Roman period.
The nuraghe was built in differentstages between the Middle Bronze Age (14th- 12th century BC) and the Iron Age(10th %u2013 7th century BC), while the village dates from the last phase of itsconstruction.
Partiallyaccessible to disabled people.