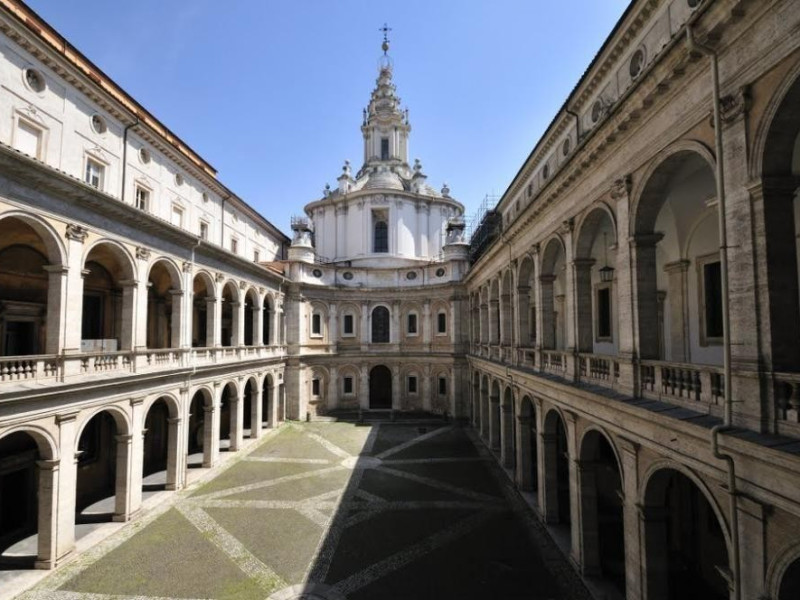 Corso Rinascimento, 40 - Palazzo della Sapienza, Roma
To solve the first urgent problem to concentrate ceased cards from offices of the papal hastily, arranged after 1870 in several roman palaces, it was assigned Palazzo Mignanelli, near Square of Spain, which also becames the first headoffice of the General Directorate of State Archives of Rome. To remember, in fact, that a lot of archives, especially the financial departments, in 1870 were concentrated in the Palazzo Salviati in Lungara and from there they were transferred to St. Michael's Hospice Ripagrande. Other notable concentration of documentary material was in the Palazzo Montecitorio, in the Senate and others in Piazza di Pietra, and finally in the Palazzo Mignanelli, located near Square of Spain.
The transfer of the University of Rome in the new campus thus represented an opportunity to obtain in 1936 the award of this monumental architectural complex G.B.Falda, Palazzo della Speranza - west front (XVIII cent.) - built between sixteenth and seventeenth century in the ancient district of St. Eustace.
This solution turned out to be certainly beneficial to the roman Institute, after fifty years of peregrinations between various palaces in Rome, he was able to enjoy a prestigious office, even if to contein the documentation was necessary to fully open the wing of the the building in Via dei Sediari, an intervention on a monument that would be unthinkable today. The new space, however, proved insufficient and it was necessary to use of a convent place in the Campo Marzio, not far away. This situation impeded the possibility of expansion of the archival material related to the acquisition of new and important documents.

To learn about the history and evolution of the architectural complex of S. Ivo alla Sapienza, the seat of the State Archives of Rome> [more]

To take a virtual tour> [more]

To make a virtual visit to the ancient sites of the State Archives of Rome> [more]