Travel tips - Experiences
The wonders of Yosemite National Park
Yosemite National Park is one of the most fascinating natural parks in California: it offers rocky walls to climb, the highest waterfalls in North America, granite monoliths and dizzying high peaks. Visiting Yosemi-te National Park is simple, but given the vastness of the spaces it is an experience that must be carefully planned: if you want to get a better idea - follow our advice!
Visiting Yosemite National Park
Yosemite National Park is the first Protected Nature Area established in the United States back in 1864.
This park is located in the homonymous valley and is a real natural stage for giant monoliths, this is thanks to the presence of the famous Yosemite Falls as well. It is rightly considered among the "must see" place in California.
It is almost entirely enclosed by vertical rock walls. Yosemite National Park is a unique stone theater: spec-tacular mountains and peaks, waterfalls that register the highest jump in North America, clear lakes and giant sequoias. It is definitely a must-do to experience once in your lifetime.
The most evocative view thar embraces the entire Yosemite Valley is Glacier Point which is the highest rock of the Park. You can reach this place in several different ways: by takinng a trek for true enthusiasts who are also able to face a drop of about 1000 meters; by renting a car and driving to the lookout; by tta-king advantage of the free shuttle that crosses the most beautiful points and attractions of Yosemite Na-tional Park or ... by gliding over it.
That's right! Among the many sports activities that allow you to experience the Park and stay in close con-tact with nature is the possibility of going by glider or by hang-glider. It is truly an experience full of adre-naline that is recommended only for the bravest!
El Capitan: the king of monoliths in Yosemite National Park
Yosemite National Park is home to 8 granite monoliths of which El Capitan is the undisputed symbol: it is in fact one of the highest granite boulders in the world standing at 1100 meters.
To see it, you must drive along El Portal Road - road 140 which goes from the Arch Rock Entrance andcon-tinues on to the center of Yosemite Valley. The journey is particularly fascinating because it allows you to admire a unique panorama.
Want to discover another spectacular rock wall? Half Dome. The smooth granite wall has an extraordinary uniqueness: only 7 degrees separates it from being perfectly vertical.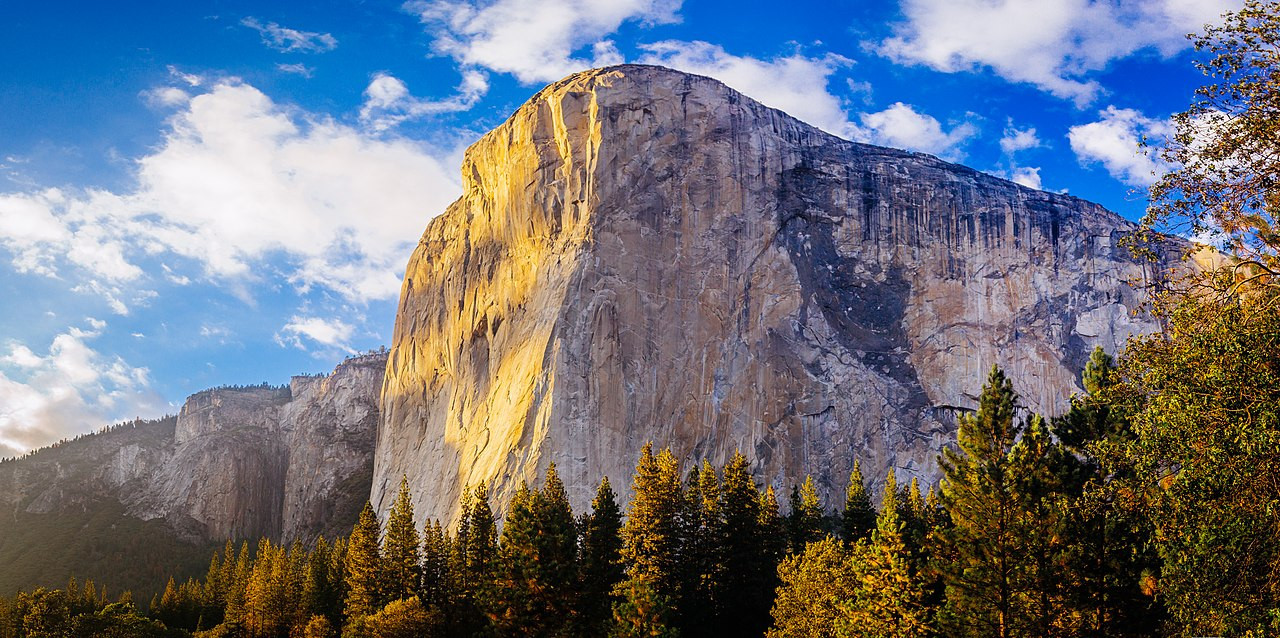 Reaching the summit means venturing on a really fascinating walk: you must start from the Mist Trail and reach the Vernal Falls waterfall that has a vertical drop of about 300 meters. It ends with a steep and quite challenging climb. The fatigue that you experience will be gratly rewarded with a splendid view that can be enjoyed once you reach the top. The full path is long, therefore it is advisable to set off at dawn.
Yosemite waterfalls: the highest in North America
Yosemite Falls, or rather the spectacular Yosemite Water Falls are known to be the highest in all of North America and are one of the Park's main attractions.
The dizzying Yosemite Falls are divided into three jumps: Upper Yosemite Falls, Middle Cascades and Lo-wer Yosemite Falls.
If you're wondering how to get as close as possible to these Falls, know that there are two or three very different paths, just like the points of view that allow you to reach this destination. A single thing to keep in mind depends on the season: if you visit the Park during the winter, the Falls could become a huge slab of ice; in the summer on the other hand - don't be surprised to find them completely dry.
Those who do not like walking too much can opt to visit the Bridal Veil Falls which can be reached in just 15 minutes.
Lower Yosemite Falls
This is the lowest waterfall, standing at a height of only 98 meters. The only way to reach its base is to fol-low an easy and short circular path which does not require any particular athletic preparation (there is also an accessible path for wheelchairs).
It is very easy to reach the path if you start from the Valley Visitor Center and following the bicycle path for just under a mile: the entrance is well signposted and is close to the shuttle that goes around the Park.
Once you arrive at the observation point, if you look up you will find yourself in front of Yosemite Falls and the breathtaking views of Yosemite Creek.
Upper Yosemite Falls
The panorama at the top of Yosemite Falls allows you to enjoy the view of the Park and the valley from a height of 739 meters.
This excursion is obviously more demanding than the previous one: the path that reaches the top is one of the oldest in the whole Park and among the most loved by hikers that visit Yosemite. It starts near Camp 4 close to Yosemite Lodge, and climbs up through an oak forest. After the 1000-foot ascent near Columbia Rock you will come across a wide-angle panorama that embraces Half Dome, Sentinel Rock and the whole valley.
The bravest can continue on further! From here on, Yosemite National Park displas its most arduous and steep face risingp to the top of a waterfall and the source of the river that supplies it. This is a very difficult path, with a drop that could be hard to face for beginners.
Visiting Yosemite in one day: practical advice
Yosemite National Park is very big. Those who have limited time must get organized so that a visit to Yo-semite can be done in one day.
The simplest and most effective solution is to visit Yosemite by car: the Park is always open and can be vi-sited by car – if you don't own one, you can rent. However, you should keep in mind that road 120 – which is the only one that crosses Yosemite National Park from east to west - is closed from early No-vember until the end of May/beginning of June.
There are 4 main points to see if you visit only for one day.
Tunnel View
During a day visit to Yosemite the panorama from Tunnel View is a must- see and must be included as a first stop because it is one of the closest observation points to the Park entrance.
Bridalveil Fall
This is one of the most famous places in Yosemite, although the waterfall is smaller and less majestic than Yosemite Falls. It stands at a height of 189 meters
Taft Point
This point is definitely more isolated than other attractors. It is a succession of different scenarios: fir trees, low plants and open glades, which are surrounded by rocks that can be climbed along the slackline while you walk suspended in the void.
Glacier Point
Il gigante tra i giganti del Parco Nazionale di Yosemite, in cima al quale sedersi e...guardare di sotto!
The giant among the giants of Yosemite National Park where you must sit on the edge and ... look down!
Riproduzione riservata © Copyright Altrama Italia