Travel tips - Traditions
Le Castella, a magical place in Calabria
There is a magical place in Calabria specifically located in the province of Crotone. It is Le Castella, where the cry "Mamma li turchi!" is heard, and where The Occhialì and Le Castelle incident is still alive today – the magical story of the Calabrese boy who became the great pirate Uluç Alì.
Le Castella-Istanbul round-trip
As we walk through one of the most beautiful places on the Crotone coast, along the strip of land that stretches out into the sea with the fortress of Le Castella, specifically at Isola Capo Rizzuto - we come across an open space with an unusual name, Piazzetta Uccialì. In the center stands the half-body shot of a mustachioed Saracen pirate. Upon closer inspection, however, the epigraph reads:
Giovanni Dionigi Galeni - Kilic Ali Occhialì, Castella-Constantinople 16th century ".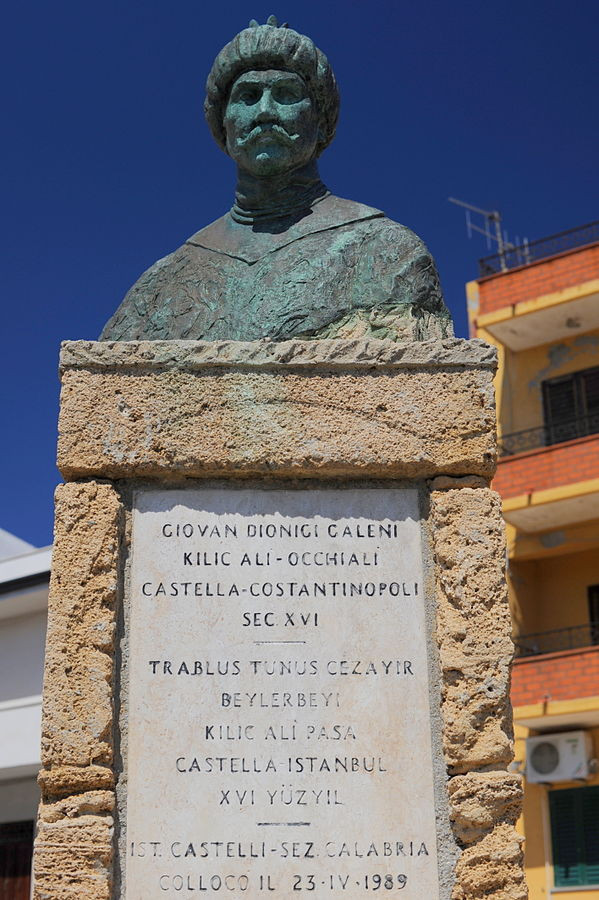 We thus discover that the great Ottoman admiral Uluç Alì - also known as "Ali the Renegade", "Alì la Spada" or simply just as Occhialì – is the one who participated and was commander at the Battle of Lepanto. He is the only one among the surviving captains - the other local youth was captured by the corsair Barbarossa in 1536.
Le Castella and the land of Occhialì
Visiting the fortress of Le Castella which bears the signs of the numerous assaults that followed one another over time; the quarries of Punta Cannone in the port area (probable quarry for the Temple of Hera Lacinia, located on the nearby promontory of Capo Colonna); and then again, diving into the underwater itineraries of the marvelous Marine Protected Reserve, were we can become lost among wrecks and sunken treasures. We never struggle to imagine the raids and crossings of peoples who have come from far away.
It is no coincidence that these fascinating places that are suspended between the West and the East, became the set of two great masterpieces: The Brancaleone Army by Monicelli, and Il Vangelo according to Matteo by Pier Paolo Pasolini.
The same story of Occhialì seems to be the plot of a colossal piece from other times: the converted Calabrese who marries the pasha's daughter and becomes ruler of the Mediterranean, commander of the fleet of Alexandria, pasha of Tripoli and finally governor of Algiers. He died in 1587 at his palace located on a hill in Istanbul where he had founded a village called "New Calabria".
We can also find it located at the matrix church of Mola di Bari, in a 16th century fresco depicting him as a enthroned sultan or between the pages of Don Quixote by Cervantes, while still in his homeland - Calabria, in the village of Celico - where a copy of the mid-length work indicates Gustavo Valente's house. He was a culptor, historian and biographer who gave us the real story of the Calabrian pirate Occhialì.
All rights reserved © Copyright Altrama Italia