Travel tips - Kitchen
What to eat in Livorno?
Livorno is a coastal Tuscan city par excellence where nineteenth-century dwellings mix with newly built ones. It is a lively city in which the culture of the various peoples present blends together this provides a local cuisine with a multitude of unparalleled flavors and colors.
Livorno's cuisine has always been linked to the port and to sea which are both true "institutions". These places have always guaranteed excellent fresh fish, and are capable of delighting both residents and tourists. But what can we eat in Livorno precisly? Well, let's find out together...
The Mighty Cacciucco
In Livorno you can't miss the Cacciucco which a fish soup that is typical of the cuisine that derives from Livorno and Viareggio. It is usually tradition to prepare it with 7 or 13 different types of fish: crustaceans, molluscs, polyps, cuttlefish, sea cicadas, scorpion fish and other species that belong to the so-called "poor" fish category. Then you add tomato sauce while it is cooking. On the bottom of the earthenware plates, slices of toasted bread are laid and rubbed with a little bit of garlic.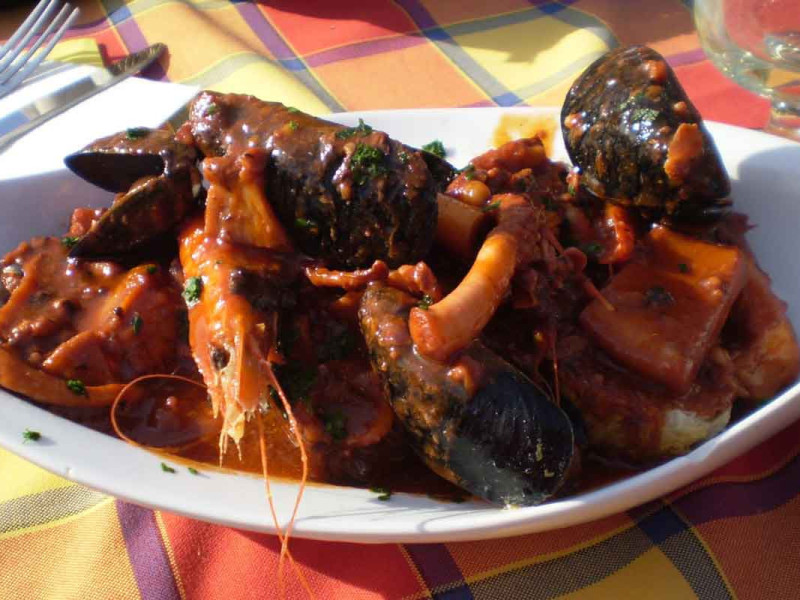 Cacciucco is a dish that has always been accompanied with a nice glass of red wine in Livorno
The term Cacciucco derives from the Turkish word "kuciuk", which means "small", or "minute". In Tuscany, on the other hand, this etymology has taken on the meaning of "mingling", which precisely points out the combination of fish that this dish is composed of.
According to another hypothesis, "Cacciucco" derives from the Spanish word "cachuco" instead, which is the specific name of a fish that is similar to the snapper but that is used to indicate fish in general in Spain.
An ancient legend tells us that there was a fisherman from Livorno who went with his boat to work and was surprised by a storm in the middle of the sea and drowned. He left his wife and three children in absolute poverty. One day his children were famished and didn't have anything to eat, so they went to see the fishermen friends of their father who had pity on them and they received a sea cicada, a polyp, a sepia, and other types of fish.
The children brought the fish to their mother who cooked them all together mixed with the herbs and tomatoes from her garden. She also added sea water and oil. On the bottom of the tureens then she placed slices of stale bread upon which she poured the fish soup.
The wonderful scent of that dish spread throughout the neighborhood. Everyone ran to see what it was. This is how Cacciucco was born - loved by those from Livorno and beyond.
A second legend talks about a lighthouse guardian who was forbidden to fry fish with cooking oil since it was needed to make the light of the lighthouse function and could not be wasted for cooking. So the guardian invented a new fish-based dish that needed very little oil: Cacciucco, in fact.
Chickpea pie
Another dish that has makes the Livorno and nearby Pisa's history is the chickpea pie, also known as chickpea farinata, cecina or fainè in the Ligurian dialect.
It is a very low savory pie that is cooked in a wood oven and made by kneading together chickpea flour, extra virgin olive oil, water and salt.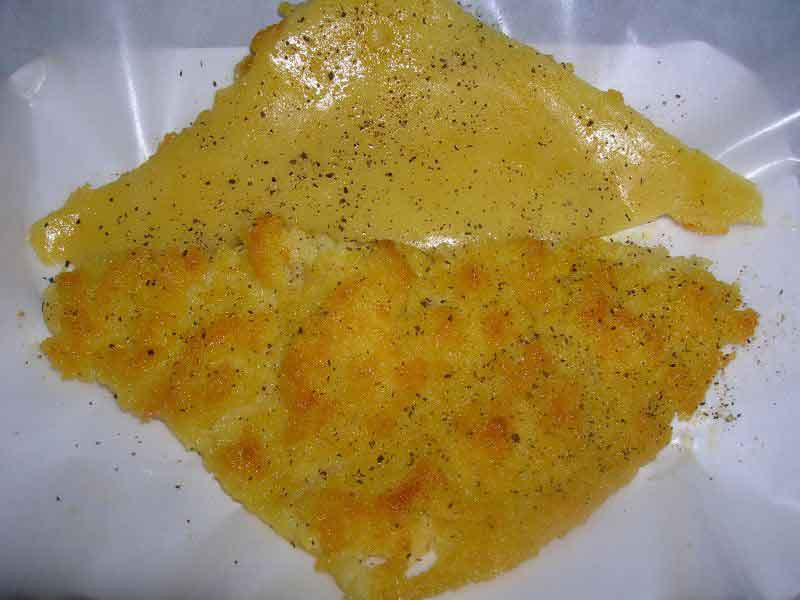 Legend has it that this pie has its origins in Pisa and dates way back to 1005 when the Pisan army descended into Calabria to free its coasts from the Saracen invasion.
Taking advantage of the distance of the Pisans, the Arabs decided to attack and take over the city's gold collections. But from the top of their watchtower someone managed to warn the Pisans of the arrival of their enemies - so the war began.
The Pisans threw chairs, tables, pots and even bags containing chickpea flour and hot oil from the windows at their enemy while shouting:
"Do you want the gold, you ugly filthy animals? Here it is!"
During the hustle and bustle, the chickpea flour was trampled and mixed with the oil. The compost that dried under the sun was picked up by the tired and hungry people who ate it together with slices of unleavened bread. Thus the gold of Pisa was born, namely chickpea pie or farinata.
All of this probably served as an inspiration for another legend relating to an anecdote that happened almost three hundred years later - specifically in 1284 - when Genoa defeated Pisa in the battle of Meloria.
The Genoese galleys loaded with captive rowers found themselves in the middle of a storm. In the hustle and bustle, some barrels of oil and chickpea sacks spilled, and became wet by the salt water.
Because of the food shortage, the sailors recovered as much as possible and fed on the jelly which was made with crushed chickpeas and oil. Some refused to eat it and left it to dry under the sun. The result was these tasty pancakes which the sailors discovered almost by chance on the following day when they were driven by pangs of hunger.
The Livorno-style surmullet
Another dish that is less well-known to most but also very good is the Livorno-style surmullet.
The Livorno-style surmullet is made by simply cooking the fish in tomato sauce, with the addition of parsley, garlic, chili pepper and of course extra virgin olive oil.
It is said that the Jews who were expelled from Spain and who found their new home in Livorno invented this elementary but tasty recipe. They were also the ones to introduce the use of the tomato in the dishes of our local cuisine.
Pasta with clams
Finally, how can we forget the delicious pasta with baby clams. This small seafood - which is very often confused with clams - are nothing but cockles and which are found in the subsoil of Livorno's beaches.
How can you not try another seafood specialty - a good dish of pasta seasoned with a nice tomato sauce and local baby clams. It is considered a dish prepared for a special occasion and is usually made with spaghetti or linguine and then accompanied with a high quality white wine produced strictly in Livorno.
All rights reserved © Copyright Altrama Italia