Travel tips - Kitchen
The typical dishes of Syracuse: what and where to eat
Siracusa is a white pearly destination for tourists from all over the world. Visiting the ancient Sicilian city where natural beauty blends with architectural ones, also means taking a journey through its ancient flavors - the result of Greek contamination. It is a meeting place between the sea and land with its unique and tasty dishes. Discover where and what to eat in Siracusa with ViaggiArt!
Seafood specialties in Siracusa
If you find yourself in Siracusa, a must-see is a visit to the Island of Ortigia, the ancient heart of the city. On this strip of land immersed by the sea that you can enjoy the best culinary specialties of fresh fish caught on the spot that is sold every morning at the fish market.
From regal octopus salads, caviar meatballs, to marinated anchovies - just to get us started! We move on to the typical first courses such as: the special fried pasta alla siracusana: spaghetti sautéed with anchovies, breadcrumbs or toasted breadcrumbs, garlic and oil (some add a few Pachino tomatoes). Among the main courses one can try: tuna alla ghiotta seasoned with potatoes, tomatoes and onion. In short, choosing is the hardest part!
There are several restaurants where you can taste these seafood delicacies : L'antica Locanda da Enrico – a welcoming and elegant spot that offers specialties from the traditional Siracusa cuisine; Don Camillo restaurant with its simple yet refined cuisine, and then - "La terrazza sul mare", "Grand Hotel Ortigia" to try out some typical dishes while enjoying a breathtaking view.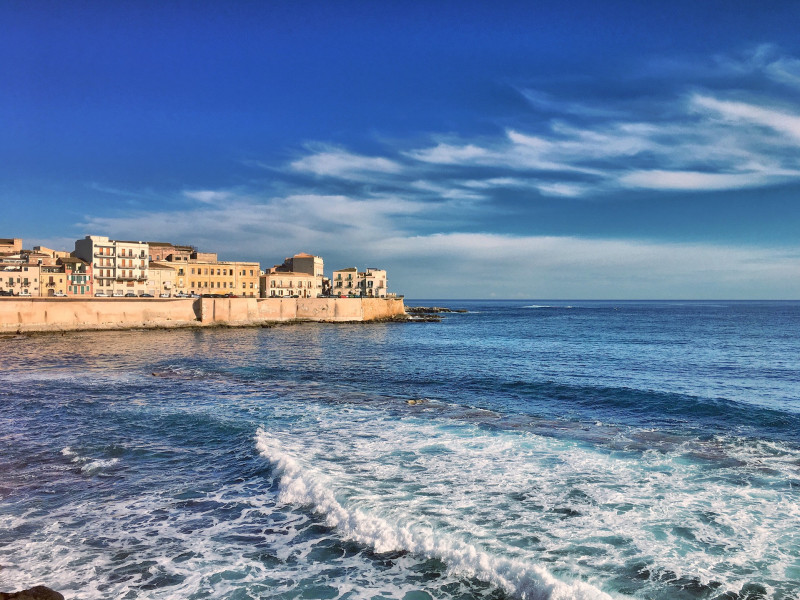 The dishes of the turf
For meat lovers, we suggest the farsumauru (or fasumagru) - a meatloaf filled with cold cuts and cheeses - and the cunigghiu a 'stimpirata, a pan-fried rabbit made with capers, olives and tomatoes. These are the main courses we strogly reccomend that you try. Meanwhile, the vegetarians will not be able to help themselves as they taste the caponata, the most famous vegetable side dish of the Island, or the classic eggplant parmigiana.
At Da Monzù you can try all of these specialties, but the restaurant also offers excellent seafood cuisine to satisfy every palate.
Street food in Siracusa
Do not miss the many tasty products, from cheeses to cured meats, that the Caseificio Borderi offers. It is located within the Ortigia market, and since 1930 it has an innate passion for traditional flavors. For seafood dises, instead, it's a good idea to head on over to Oz & Cappuccio Pesce Fresco, where you can enjoy excellent swordfish burgers, fried fish or bruschetta with anchovies.
Passion for sweets
The Desserts in Sicily are a guarantee, but if you feel like trying a delicious Siracusa pastry, then you must ask for a cuccìa, a spoon dessert tied to Santa Lucia made of boiled wheats, sweetened ricotta, candied fruit, almonds and dark chocolate chips. Among the top pastry shops, there is Alfio Neri, which is considered a real local institution, Rizzo, and the Pasticceria Leonardi by Peruch.
All rights reserved © Copyright Altrama Italia